Details
We offer two types of density:
Medium Density (100%): The medium density is equivalent to 100% thickness of the standard head of hair. At this density the full lace wig would feature normal hair density and would provide the most natural and undetectable look.
Heavy Density (150%)

: The estimated thickness of the heavy density is 150% of the standard head of hair. This thickness is for people who want a fuller, more dramatic style.
The weight depending on the density of our wigs is:
For 100% density the weight is:
14" – 140-150 g, 16" – 150g, 18" – 160g, 20" – 170g, 22" – 190g, 24" – 200g
For 150% density the weight is:
14" – 170-180 g, 16" – 180 g, 18" – 190g, 20" – 200g, 22" – 220g, 24" – 230g
Note: The weight is approximate and may fluctuate a few grams up or down.
Description
The Irresistible Me wigs are hand crafted full lace wigs made with 100% Remy Human Hair. These are extremely natural looking wigs for which every strand of hair was hand tied to create the perfect unit that's easy to manage, light and breathable. The wig's size is adjustable at the back and has 3 combs to secure it on your head.
Our real hair wigs are the perfect solution for every type of woman: from those looking to change up their look without damaging their hair, to celebrity wigs enthusiasts, but also women with thinning hair or losing their hair.
We can't really talk about the best lace wigs without mentioning the endless styling possibilities. The Irresistible Me high quality wigs can be parted anywhere you like because they are designed as a whole unit. They can be washed, cut, braided, heat styled and colored just like your natural hair.
How long does it take for an order to be processed and shipped to me?
Because our 100% human hair wigs are handmade, the processing time is going to take between 10 and 15 days from the moment you placed the order. Please be aware of this before ordering as the wigs are handmade and orders cannot be canceled once they are placed.
How to install a full lace wig
Full lace wigs are manufactured with a base that is made of lace. Individual hairs are then sewn into the lace. The first time you use the wig you need to trim and easily customize the lace to your desired hairline.
Try the wig on before cutting off the additional lace at the front. In order to trim the lace, put the wig on your head, use the clips to secure the wig and trim any lace that sticks out past the wig hairline. Trim the lace in small portions at a time in order to avoid accidentally cutting too much. You need to leave a little extra lace in the front. Cutting the lace too short creates a bad fit and excessive pull.
All our wigs are 100% real human hair wigs and they can be cut, styled, curled and colored just like your own hair. That being said, we would only recommend going from a lighter shade to a darker color to avoid using bleach and the possible damage to the hair that comes with that.
Can the wigs be returned for a refund? How about an exchange?
As long as you didn't use the wig and you are able to ship it back in maximum 15 days after you got your parcel in its original box, clearly untouched, unworn and odor-free (wigs which have been used can't be returned), we will be happy to refund or exchange it for you.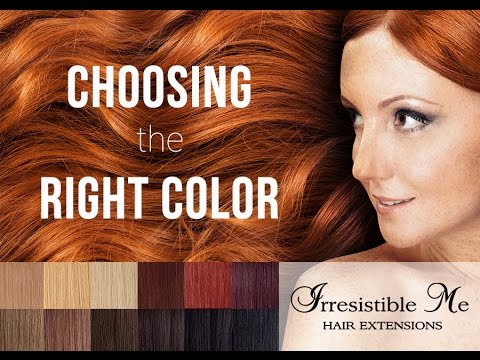 See how it works
Our clip-in hair extensions are easy to use. Anyone can install them adding instant length and volume in just minutes.
We use small but sturdy clips that allow a secure, pull-free grip. The clips and wefts are not bulky so that you can conceal them with ease.
Mysterious
by
Georgia
•
•
10/17/2018
The hair is amazingly soft and natural. It doesn't tangle when I wear it down. After I braid it, I have to take care to detangle it, but it's not super difficult. The best feature I think is the amazingly gorgeous color. I feel so sultry and mysterious wearing it.
Money well spent
The fast install is such a time saver for me, so a big advantage for my busy life
Brilliant!
I'm wearing my new Irresistible Me Full Lace Wig and I really love it! So easy to put in - took about 3 minutes to get it sitting perfectly. I was a bit paranoid about concealing the lace part but I got the hang of it! Even for everyday use this is brilliant!