Details
100% Human Hair
20" Long Pieces
Cut into smaller strips for flexibility
Available in 12 wonderful colors
Pre-taped
Reusable - can be re-taped easily
Undetectable & ultra-comfortable
Available in 50 grams sets
Super-fast to apply and 100% non-damaging
Composition: 50 grams set, 20 strips (X1.5" each).
One of the 20 strips in the set will come as a sample – you can take it out of the small section of the package and make sure you like it before opening the big section of the package with the rest of the strips. Once you take all of them out, you will not be able to return or exchange them.
Please be advised that using hair products that contain sulfates may interfere with the glue, and the tapes can lose their adhesiveness.

While wearing tape-in extensions, use only products that are sulfate-free.
Description
Irresistible Me's invisible tape in hair extensions are an innovative, semi-permanent option to add natural volume and length to your hair.
The tape-in hair extensions made with 100% Remy human hair are lightweight and totally undetectable since they look exactly like the hair from your own scalp. These tape-ins don't have the horizontal seam at the top which makes them invisible once attached. They look natural and are impossible to spot even if you have thin hair (in fact, they are the perfect hair extensions for thin hair).
They come in 50 grams packs with 20 strips of hair that you can use to create 10 bounds (sandwiches). Each of the stripes is 1.5 inches wide and 20 inches long.
Depending on what you want (volume, length or both) you will need 2-4 packs for a full head look.
We have 12 different colors to choose from. You can combine several colors to create a highlighted or multidimensional look without any damage to your hair. Great for those who are in between shades and need more than one color for a perfect blend.
The thickness of the hair is consistent from the top to the bottom of the weft. This line is very versatile because the small wefts are perfect for invisible blending - they lie flat on your head and can be positioned however you like.
You can do anything you want to your hair while wearing the invisible tape in hair extensions - wash it, heat style it, cut it or color it.
A set of tape in hair extensions should last for around 3-6 months with the correct care and maintenance. The better you take care of them, the longer they will last.
Make sure you brush them twice a day to get rid of any shedding (since we usually lose an average of 100 strands a day, don't get alarmed if that still happens with the tape-ins in). Sleeping with your tape hair extensions in a ponytail or a loose braid is also very important – that will help the hair from getting matted.
Depending on how good your hair care routine is and how much you style your hair, your tape in extensions can be removed and re-taped for a second and maybe even a third application.
You will have to change the tape every 1-1.5 months because your hair will grow and the extensions will get lower on your head. Also, after repeated washing, the adhesive can lose some of its properties and the extensions can slide down. Each 50 grams set comes with 20 extra tape strips.
Use a bond removal solution on the glue to take them off and reuse them by adding new tape. Make sure to always have an extra tape roll on hand and an organic bond removal solution for touch-ups. Buy our Coconut Oil Tape Glue Remover here
Irresistible Me hair is dyed with a technique that ensures a multi-tonal effect but if your hair has more than 3 shades, highlights or lowlights, you should consider getting packs in different colors.
How to apply tape hair extensions
The process will not take long and can be done at home by yourself or with a friend's help – a full head of tape hair can be applied in under 30 minutes. You don't really need styling assistance unless you feel more comfortable applying them professionally.
Tips & Tricks
Place the first tape hair extension into your hair gently. The hair is held in place by double-sided tape that is applied by placing two pieces of the adhesive tape together, with your hair sitting in between.

Be careful not to apply the extension too close to the root of the hair – they should move and feel comfortable without pulling and causing too much friction between your scalp and the roots of your hair. You need to think about being able to style them comfortably later on (tight curls, buns, ponytails, braids and updos) without forcefully pulling on your roots.

Make sure the tape hair extensions are sitting side by side with a 1cm distance in between to also allow for some movement over time.

Finish the first row of tape-ins starting from the bottom. Once you're done with that, move on to your second row (usually 1 inch up from first row) and work your way up on your head.

Keep in mind that if you are placing your extensions too far onto the left and right sides of your head, your tape hair extensions may show. Make sure that your tape hair extensions are covered by enough of your own hair.

Avoid washing your hair for two days after applying the invisible tape in hair extensions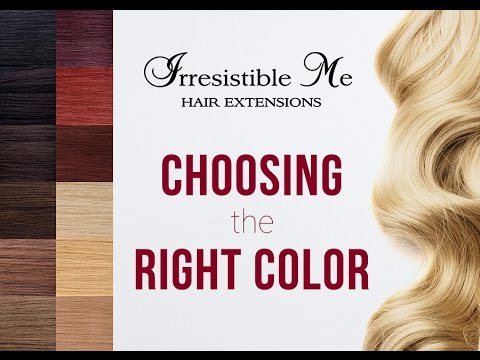 See how it works
Our clip-in hair extensions are easy to use. Anyone can install them adding instant length and volume in just minutes.
We use small but sturdy clips that allow a secure, pull-free grip. The clips and wefts are not bulky so that you can conceal them with ease.
very happy with my choice!
I'm really really happy with my choice! I have normal to thin hair and two packs worked perfectly. The tape is very bondable and has not budged. I did have them custom cut to blend but the color was spot on! So glad I purchased these extensions! I've been wearing them for almost a month now and they are still amazing
A satisfied customer!
I love love my tape in hair extensions, they don't tangle or shed and they last longer that other types of extensions I tried. The hair is so silky soft. I love that the color matches mine so well! The customer service is excellent too! I will definitely be ordering again very soon from you. I already told all my friends about you. 5 stars on everything!!