Details
The wand comes with 8 different ceramic, tourmaline infused, interchangeable barrels: 13mm, 19mm, 25mm, 32mm, 18/9mm, 25/13mm, 13/25mm and pearl.

No frizzy hair – the tourmaline technology with negative ions leaves your hair smooth and shiny by sealing hair oils, color and moisture in

Longevity – the tourmaline barrels are much more resistant than plain ceramic barrels

Fast heating (up to 20 seconds) and variable temperature control (450F) – because we know you need a tool that helps you save time

Intelligent – the LED screen shows you the temperature you're at - this means it's impossible to damage delicate hair by setting it to the wrong temperature

double click the ON/OFF button to "freeze" all the buttons; double click the ON/OFF button again to re-activate them

Cool tips – the rubber tip of each barrel doesn't heat up which helps with maneuverability and safety

Comes in good company – you get a heat-proof pouch that doubles as a nice travelling pack that you can take with you anywhere and a heat-resistant glove to avoid getting burned while styling your hair

1 year limited warranty
Description
The Sapphire Curling Wand is our new, top of the line curler that features tourmaline technology and eight different interchangeable barrels. It's just like having 8 separate hair curlers, but much more affordable and easy to transport and deposit.
The Sapphire will help you create endless hairstyles while also protecting your hair. This curling wand is extremely versatile and every barrel will create a different type of curl: tight perm like curls, ringlet curls, spirals curls, ribbon curls, flick curls, large and bouncy curls, beach or wavy curls and finger wave type curls that will hold for ages.
In terms of quality, our wand is up there with the best hot tools brands but with a considerable smaller price tag (simple wands with just one barrel from NuMe start at $139, Bellami has a 6 in 1 wand that retails for $300, ghd simple wands with just one barrel start at $170 as opposed to $200 for the Sapphire 8 in 1 Curling Wand).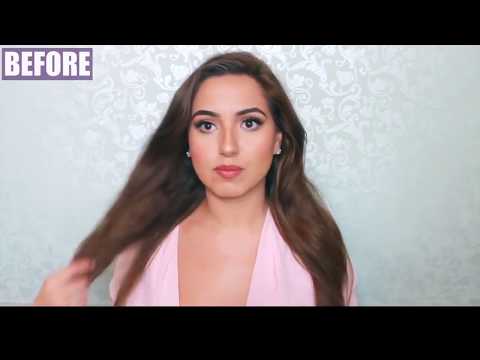 See how it works
Our clip-in hair extensions are easy to use. Anyone can install them adding instant length and volume in just minutes.
We use small but sturdy clips that allow a secure, pull-free grip. The clips and wefts are not bulky so that you can conceal them with ease.
Amazing.
by
rockcomluxo
•
•
05/04/2017
I love the pearl and the 13mm, the effect is so cute.
It's a very versatile instrument and great for those who work with hair.
I have curly hair, but when I want to change the format a bit I use sapphire and my hair looks beautiful.
I'm in love with this curler!
by
Madison
•
•
02/17/2017
I love using this curler! So easy to switch out the different barrels and I love being able to change the size of the barrel instead of having multiple curling wands. Usually when I curl my hair one side would always flatten out just minutes after, but not with this. The curls stay all day, even without hairspray. Isn't this great?
The Curler is so versatile!
Irresistible Me and I have a wonderful love story. I love every piece of "jewelry" I bought here. The shipping is always on time and they are very helpful when I have a question. I love their updates and how they always stay ahead of the times, A prime example is the Sapphire Curler – it's so versatile. All the curlers you need in one neat case. Thank you Irresistible Me for helping me have great hair and save space in my drawer.