Details
100% remy human hair extensions
Composition:
200 g sets (10 pieces) - 1 pc of 4 clips (7.5"), 2 pcs of 3 clips (6"), 5 pcs of 2 clips (4"), 2 pcs of 1 clip (1.2")

140 g sets (8 pieces) - 1 pc of 4 clips (7.5"), 3 pcs of 3 clips (6"), 2 pcs of 2 clips (4"), 2 pcs of 1 clip (1.2")

100 g sets (7 pieces) - 1 pc of 4 clips (7.5"), 2 pcs of 3 clips (6"), 2 pcs of 2 clips (4"), 2 pcs of 1 clip (1.2")
Type / Color / Texture: Clip-ins / #2 / Straight
Description
Silky Touch is our best-selling line. These 100% Remy human hair extensions are fantastic quality for a friendly price and can be very easily washed, heat styled, cut and colored to blend in your hair perfectly.
The thickness of the hair decreases slightly towards the ends just like normal hair does which will provide a completely natural look while wearing them.
The Silky Touch extensions are perfect for anybody who loves adding a bit of volume and/or length to their hair occasionally or for special events and offer the best quality/price ratio on the market
If you're just starting with hair extensions and you want something great, the Silky Touch clip-in hair extensions are the way to go.
Each set is composed of 10, 8 or 7 pieces of different widths depending on the weight you choose, purposely adapted to cover your head all around.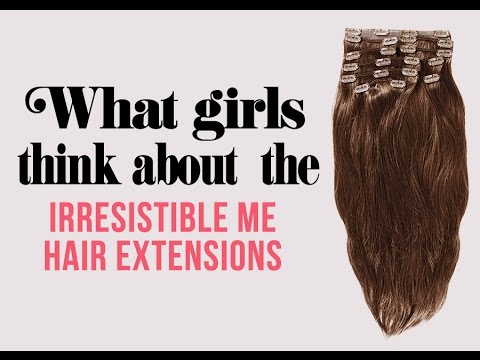 See how it works
Our clip-in hair extensions are easy to use. Anyone can install them adding instant length and volume in just minutes.
We use small but sturdy clips that allow a secure, pull-free grip. The clips and wefts are not bulky so that you can conceal them with ease.
A M A Z I N G 14 inches 140 grams
by
Paisley
•
•
01/28/2017
The hair came in exactly a week! I was so impressed when I opened the package! I have 3B hair that is easily straightened, and these extensions blended in flawlessly. I got the 14 inches, 140 gram hair. It is a lot of hair, I don't even need to necessarily use all the pieces at once, I can use a combination of a few! The only thing is I have to dye the extensions a darker brown with a rinse and also my hair (bc it is red) so it can blend in better! I see myself purchasing the royal remy extensions in the future!!
Awesome!
by
dominique14867
•
•
01/27/2017
I've read a lot of bad reviews of this brand but I just have to say that I love these extensions. I am a practicing cosmetologist and I have had my share of extensions from different brands. I did a ton of research before hand and the thing that convinced me was customization of being able to choose the length and weight. I bought my first set a little over a year ago and I got the Royal Remy 18" 200grams in chocolate brown and they are still amazing. Very thick from top to bottom, color matched perfectly and that signature weft makes all the difference in blending them in. All I ever got was compliments on how beautiful they looked. I had a short bob at the time and they still blended perfectly. I recently ordered this particular set at 20" and 200 grams and I am just as happy with them. They arrived in 8 days and the hair again was super thick and soft and they hold a style very well. The only problem I have with them is the clips aren't super strong but if you tease your hair and install them correctly you never really have a problem. And if it really bothers you because you have really fine hair it's very easy to sew on different clips. I highly recommend these extensions!
<3 Love!!!!!! #amazing 100 stars!!
by
purpleladymn
•
•
01/10/2017
I bought these extensions after watching some YouTube videos about them. I'm 52 and my hair just doesn't grow much anymore, so was getting tired of trying to grow out my hair. I put these in and cut them myself and they look absolutely amazing! You can't even tell that they are not my actual hair. I put them in every day and only takes like 4 minutes. Now I have the style I want while I wait for my real hair to grow out. Super easy and high quality product. I would highly recommend. I wish I could post a photo. You should definitely try them!!