Details
100% remy human hair extensions
Composition:
200 g sets (10 pieces) - 1 pc of 4 clips (7.5"), 2 pcs of 3 clips (6"), 5 pcs of 2 clips (4"), 2 pcs of 1 clip (1.2")

140 g sets (8 pieces) - 1 pc of 4 clips (7.5"), 3 pcs of 3 clips (6"), 2 pcs of 2 clips (4"), 2 pcs of 1 clip (1.2")

100 g sets (7 pieces) - 1 pc of 4 clips (7.5"), 2 pcs of 3 clips (6"), 2 pcs of 2 clips (4"), 2 pcs of 1 clip (1.2")
Type / Color / Texture: Clip-ins / #14 / Straight
Description
Silky Touch is our best-selling line. These 100% Remy human hair extensions are fantastic quality for a friendly price and can be very easily washed, heat styled, cut and colored to blend in your hair perfectly.
The thickness of the hair decreases slightly towards the ends just like normal hair does which will provide a completely natural look while wearing them.
The Silky Touch extensions are perfect for anybody who loves adding a bit of volume and/or length to their hair occasionally or for special events and offer the best quality/price ratio on the market
If you're just starting with hair extensions and you want something great, the Silky Touch clip-in hair extensions are the way to go.
Each set is composed of 10, 8 or 7 pieces of different widths depending on the weight you choose, purposely adapted to cover your head all around.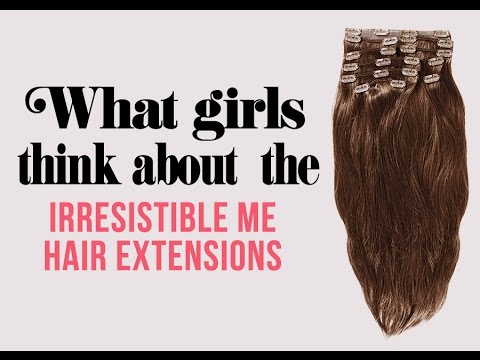 See how it works
Our clip-in hair extensions are easy to use. Anyone can install them adding instant length and volume in just minutes.
We use small but sturdy clips that allow a secure, pull-free grip. The clips and wefts are not bulky so that you can conceal them with ease.
No match my color hair, but amazing!
by
julia.goch
•
•
05/03/2017
No match my color hair, but amazing clip-in hair. They are thick, solid, soft and shiny. This quality is worth every penny. I regret that the color is too bright for me, but there is no way out. I recommend highly! Review on my blog: http://juliet-monroe.blogspot.com/2017/01/irresistible-me-clip-in-hair.html
Good 4 piece weft.
by
noncera99
•
•
04/17/2017
When ordering take into consideration the time frame to receive these extensions. It does take a while so if you are in a hurry to get them order them with enough time. Quality of extensions were odd I say that due to opening up the package & seeing these extensions in not so good condition. The hair was broken & frizzy & looked very damaged. But after I washed & conditioned them they appeared to look better. I have to admit the 4 weft extension that comes in the set is the best I have seen in any collection. So over all it was a hate to love relationship with these extensions.. But for the price they are good quality.
Love ❤️
by
Chelseasollohub
•
•
04/15/2017
I've been using IrresistibleMe for years now and I couldn't be more excited about the product! I have fine hair and I could never grow it long with out it looking then and straggly at the ends. But irresistible me clip in hair extensions give me the confidence and the beautiful luxury hair I've always wanted. I cannot go a day without my hair extensions I wear them every day and they last ! Everyone always asked me who does my hair? and I'm not afraid to tell them that it's clip in hair extensions I want everyone to know about this product! I purchased the number 14 honey blonde or golden blonde and I actually color them a brown to make the blonde look like a highlight and they look beautiful !!! So natural looking!