Details
100% human remy hair extensions
1 piece of 4 clips (7.5")
Weight: 60 grams for 14", 16", 18" and 80 grams for 20", 22", 24"
Type / Color / Texture: Clip-Ins / #613 / Straight
Description
This is our signature clip-in weft 7.5 inches wide and made with 4 layers of 100% human Remy hair that you won't find anywhere else. The super-weft everybody is raving about is the best way to add extra volume and bounce to your hair in less than 2 minutes.
The construction of the quad weft is very secure featuring 4 single pieces sewn onto one reinforced mesh seam and 4 small and sturdy clips that will lay flat on your scalp without creating any bulge.
Although as thick and impressive as some other brands' entire sets, this ONE volumising weft will blend in seamlessly and literally take seconds to install.
The thickness of the hair is consistent from top to bottom and the weft can be very easily washed, heat styled, cut and colored.
We use top of the line hair and a special treatment unique to Irresistible Me to add extra silkiness and durability.
Perfect if:
you just need a volume boost (for both volume and length we recommend a full headset from our Silky Touch or Royal Remy lines)

you want so much volume and length that a normal set of extensions just isn't enough

your hair is quite thin so a volumising weft is the only thing you need to make it look amazing, but still natural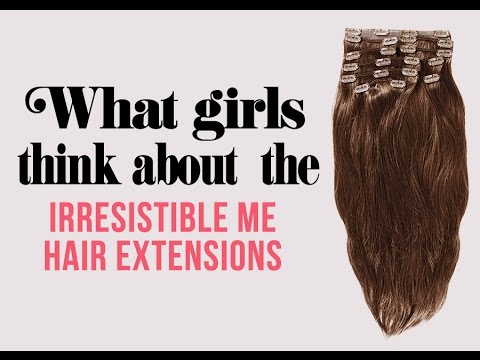 See how it works
Our clip-in hair extensions are easy to use. Anyone can install them adding instant length and volume in just minutes.
We use small but sturdy clips that allow a secure, pull-free grip. The clips and wefts are not bulky so that you can conceal them with ease.
Yellow
by
taisha_santiago
•
•
02/21/2017
The platinum blonde signature weft I received was very, very yellow. There was nothing platinum about them. I had to tone them a few times and they still are not the color I was hoping for. Other than the color, the hair is beautiful and thick. I continue to buy from this company because I've ordered other extensions in the color ash blonde and I am very pleased with the color, thickness and length.
Amazing hair!
by
devonbeyer
•
•
01/11/2017
Amazing hair and great quality super thick and colors amazing I used a semi permant teal and blue and did a color melt and it turned out so vibrant!
The BIG WEFT
The BIG WEFT is great! And such nice customer service!!

I'll update this review once I dye the hair to match my color.