Details
100% human remy hair extensions
Composition:
200 g sets (10 pieces) - 1 pc of 4 clips (7.5"), 2 pcs of 3 clips (6"), 5 pcs of 2 clips (4"), 2 pcs of 1 clip (1.2")

140 g sets (8 pieces) - 1 pc of 4 clips (7.5"), 3 pcs of 3 clips (6"), 2 pcs of 2 clips (4"), 2 pcs of 1 clip (1.2")

100 g sets (7 pieces) - 1 pc of 4 clips (7.5"), 2 pcs of 3 clips (6"), 2 pcs of 2 clips (4"), 2 pcs of 1 clip (1.2")
Type / Color / Texture: Clip-Ins / #28 / Straight
Description
Royal Remy is our premium line of clip-in hair extensions. We use top of the line hair and a special treatment unique to Irresistible Me to add extra silkiness and durability and make these the best hair extensions you can find.
The thickness of the hair is consistent from the top to the bottom of the weft which will provide a lot of body and bounce while wearing them.
This line is very easy to blend with your own hair and can be very easily styled, cut, colored and curled.
Ultimately, the Royal Remy hair will last longer and is the closest match you can find to completely unprocessed hair. If you're looking for longevity and volume, the Royal Remy line is the best choice you could make.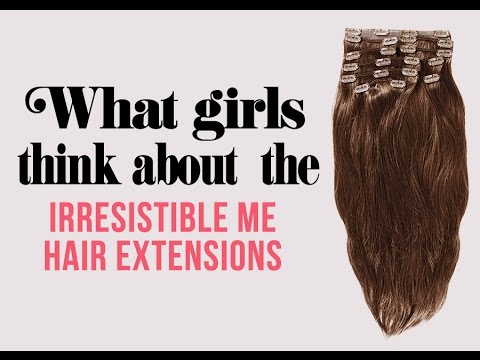 See how it works
Our clip-in hair extensions are easy to use. Anyone can install them adding instant length and volume in just minutes.
We use small but sturdy clips that allow a secure, pull-free grip. The clips and wefts are not bulky so that you can conceal them with ease.
LOVE!!!
by
michellereneerauhut1971
•
•
08/02/2017
Very beautiful! Matches perfect !
Hermosas
by
dulcemariaruv
•
•
07/28/2017
Esta fue mi primera compra en esta página la verdad tarde un mes, en recibir mis extensiones a México. Pero sin duda valió la espera, el cabello es hermoso muy suave y es demasiado. Estoy realmente feliz
Absolutely gorgeous!
This was my first purchase from Irresistible Me after doing a LOT of research on various brands. I've had taped, fused and other clip ins, but NOTHING compares to these! The hair quality is fantastic, the platinum color is beautiful, the hair is incredibly soft, and the 200g weight is perfect for my thick hair. I did have to wait about a month to receive my order, but it was completely worth it. I'm seriously considering getting the honey blonde set since I vary my blonde shades from one season to the next. Thanks for providing such an amazing product!