Details
100% human remy hair extensions
Composition:
260 g sets (10 pieces) - 1 pc of 4 clips (7.5"), 2 pcs of 3 clips (6"), 5 pcs of 2 clips (4"), 2 pcs of 1 clip (1.2")

200 g sets (10 pieces) - 1 pc of 4 clips (7.5"), 2 pcs of 3 clips (6"), 5 pcs of 2 clips (4"), 2 pcs of 1 clip (1.2")

140 g sets (8 pieces) - 1 pc of 4 clips (7.5"), 3 pcs of 3 clips (6"), 2 pcs of 2 clips (4"), 2 pcs of 1 clip (1.2")

100 g sets (7 pieces) - 1 pc of 4 clips (7.5"), 2 pcs of 3 clips (6"), 2 pcs of 2 clips (4"), 2 pcs of 1 clip (1.2")
Type / Color / Texture: Clip-Ins / #613 / Straight
Description
Royal Remy is our premium line of clip-in hair extensions. We use top of the line hair and a special treatment unique to Irresistible Me to add extra silkiness and durability and make these the best hair extensions you can find.
The thickness of the hair is consistent from the top to the bottom of the weft which will provide a lot of body and bounce while wearing them.
This line is very easy to blend with your own hair and can be very easily styled, cut, colored and curled.
Ultimately, the Royal Remy hair will last longer and is the closest match you can find to completely unprocessed hair. If you're looking for longevity and volume, the Royal Remy line is the best choice you could make.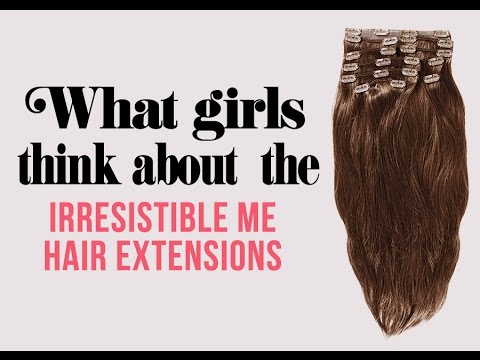 See how it works
Our clip-in hair extensions are easy to use. Anyone can install them adding instant length and volume in just minutes.
We use small but sturdy clips that allow a secure, pull-free grip. The clips and wefts are not bulky so that you can conceal them with ease.
So in LOVE!!!
by
maryyxxd
•
•
07/24/2018
This is the third time I order hair extension from irresistible me, I love these hair extensions. I always go with the platinum blonde in 20in, 200g. They are a bit yellow but the trick is not to pour the purple shampoo directly on the hair because they will turn purple! The trick is to fill the sink with water & pour the purple shampoo into the water turning the water purple. I learned this the hard way!After just place the wet extensions into the sink & slowly start adding more purple shampoo.
Absolutely amazing! But..
by
montsergirl
•
•
04/01/2017
I LOVE LOVE LOVED these, so beautiful, so healthy, shiny, excellent quality. I had used them and loved them! I had a chocolate brown and ended up changing my hair color… needing these to match I took them to a professional salon and they said it is unknown if there was anything previously done to them but I knew of course there is a risk with bleaching anything. My stylist bleached them with a level 20 to start and she said it went ok, she upped it a little since they are thick and it was safe (so we all thought) and they just completed melted. She has over 20 years of experience and bleaches my hair and it is fine so I know it wasn't her fault. I was pretty devastated…Needless to say I am purchasing a new pair FINALLY but in blonde so I will be safe! Just do not bleach! Other than that it is a very good product!
Good Quality
by
loganscunningham
•
•
02/13/2017
I ordered the 16in, 200g and it is A LOT of gorgeous hair, although, they are extremely yellow and brassy, I washed them with shimmer lights purple shampoo and they now have a green tint, very odd. I will more than likely be coloring these because they really are great extensions, but for ladies wanting an icy blonde, these aren't it.