Details
100% human remy hair extensions
Composition:
200 g sets (10 pieces) - 1 pc of 4 clips (7.5"), 2 pcs of 3 clips (6"), 5 pcs of 2 clips (4"), 2 pcs of 1 clip (1.2")

140 g sets (8 pieces) - 1 pc of 4 clips (7.5"), 3 pcs of 3 clips (6"), 2 pcs of 2 clips (4"), 2 pcs of 1 clip (1.2")

100 g sets (7 pieces) - 1 pc of 4 clips (7.5"), 2 pcs of 3 clips (6"), 2 pcs of 2 clips (4"), 2 pcs of 1 clip (1.2")
Type / Color / Texture: Clip-Ins / #1b / Straight
Description
Royal Remy is our premium line of clip-in hair extensions. We use top of the line hair and a special treatment unique to Irresistible Me to add extra silkiness and durability and make these the best hair extensions you can find.
The thickness of the hair is consistent from the top to the bottom of the weft which will provide a lot of body and bounce while wearing them.
This line is very easy to blend with your own hair and can be very easily washed, heat styled, cut and colored.
Ultimately, the Royal Remy hair will last longer and is the closest match you can find to completely unprocessed hair. If you're looking for longevity and volume, the Royal Remy line is the best choice you could make.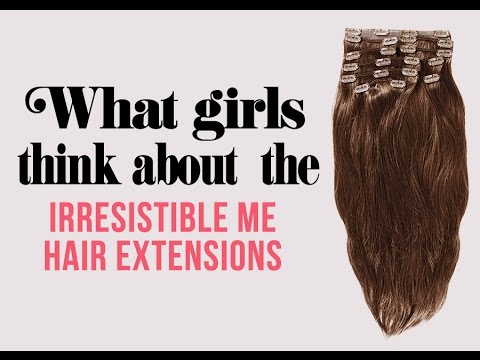 See how it works
Our clip-in hair extensions are easy to use. Anyone can install them adding instant length and volume in just minutes.
We use small but sturdy clips that allow a secure, pull-free grip. The clips and wefts are not bulky so that you can conceal them with ease.
Love these extensions!
by
era.sara
•
•
02/08/2017
I already ordered some royal remy hair by irresistible me one year ago, what has been the best choice ever. This hair is so soft and really thick, just the same consistency as my natural, 200g are absolutely perfect for normal+ hair.
The quality is really good, my old extensions would have lasted for even more than a year (used them daily, washed an styled once a week) if I hadn't bleached them.
If you are not sure about the colour, always take the lighter one, because dyeing them darker is so much easier and makes them last
longer than bleaching.

Thanks again for this great product! :)

Exceeded expectations!!
by
coliver
•
•
01/31/2017
These are the best extensions I've ever bought! Very happy with the quality. Very thick, soft, and silky. Was worried about the thickness of them. I've always had to order two packs of extensions. I ordered the 200g and they are perfect! Will never shop anywhere else for extensions.
ENAMORADA - IN LOVE
by
damarismakeup
•
•
01/05/2017
ESTOY FELIZ CON ESTAS EXTENSIONES SON HERMOSAS MUY SEGURAS NO TENGO TEMOR DE QUE SE CAIGA ALGUNA PIEZA Y MI CABELLO ES MUY RIZO PUEDO DAR LA FORMA DE MIS RIZOS NATURALES Y NO PIERDE LA FORMA Y PUEDO DARLES CUALQUIER ESTILO-PEINADO QUE YO QUIERA.
SUPER RECOMENDADAS.

grabe un review especifico de las extensiones aqui les dejo enlace directo gracias lindo dia.
https://www.youtube.com/watch?v=qY-QeOU99Qo