Details
100% human remy hair extensions
Composition:
200 g sets (10 pieces) - 1 pc of 4 clips (7.5"), 2 pcs of 3 clips (6"), 5 pcs of 2 clips (4"), 2 pcs of 1 clip (1.2")

140 g sets (8 pieces) - 1 pc of 4 clips (7.5"), 3 pcs of 3 clips (6"), 2 pcs of 2 clips (4"), 2 pcs of 1 clip (1.2")

100 g sets (7 pieces) - 1 pc of 4 clips (7.5"), 2 pcs of 3 clips (6"), 2 pcs of 2 clips (4"), 2 pcs of 1 clip (1.2")
Type / Color / Texture: Clip-Ins / #14 / Straight
Description
Royal Remy is our premium line of clip-in hair extensions. We use top of the line hair and a special treatment unique to Irresistible Me to add extra silkiness and durability and make these the best hair extensions you can find.
The thickness of the hair is consistent from the top to the bottom of the weft which will provide a lot of body and bounce while wearing them.
This line is very easy to blend with your own hair and can be very easily styled, cut, colored and curled.
Ultimately, the Royal Remy hair will last longer and is the closest match you can find to completely unprocessed hair. If you're looking for longevity and volume, the Royal Remy line is the best choice you could make.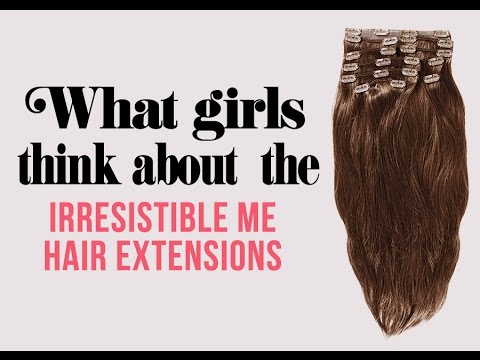 See how it works
Our clip-in hair extensions are easy to use. Anyone can install them adding instant length and volume in just minutes.
We use small but sturdy clips that allow a secure, pull-free grip. The clips and wefts are not bulky so that you can conceal them with ease.
In love!!!
I absolutely love these extensions. They clip in very well and they blend easily with my hair with hardly any styling. The set has more than enough hair, and I was able to blend it even with my short, blunt hair cut. I feel like they last longer than other brands. The amount of hair you get is great for the price! I've been buying extensions from this company for the past 2 years and I'm in love with every new set I get!
decent price for great quality hair
I've been wearing Irresistible Me clip in hair extensions for over 9 months now. The Royal Remy hair is soft, manageable and very easy to take care of. I used to wear Bellami hair but it's totally not worth the money you spend there. I would never switch from Irresistible Me. The hair is priced so decently for the amazing quality. That's why I keep coming back.
Perfect
by
debbiethomsen
•
•
09/04/2016
I put these in and my partner of 6 years didn't know they weren't real. They look so natural and fits so well.
I'm usually really bad at doing my hair, but these were easy to put in and they just look right. Would recommend to anyone.