Details
100% human remy hair extensions
Composition:
200 g sets (10 pieces) - 1 pc of 4 clips (7.5"), 2 pcs of 3 clips (6"), 5 pcs of 2 clips (4"), 2 pcs of 1 clip (1.2")

140 g sets (8 pieces) - 1 pc of 4 clips (7.5"), 3 pcs of 3 clips (6"), 2 pcs of 2 clips (4"), 2 pcs of 1 clip (1.2")

100 g sets (7 pieces) - 1 pc of 4 clips (7.5"), 2 pcs of 3 clips (6"), 2 pcs of 2 clips (4"), 2 pcs of 1 clip (1.2")
Type / Color / Texture: Clip-Ins / #2 / Straight
Description
Royal Remy is our premium line of clip-in hair extensions. We use top of the line hair and a special treatment unique to Irresistible Me to add extra silkiness and durability and make these the best hair extensions you can find.
The thickness of the hair is consistent from the top to the bottom of the weft which will provide a lot of body and bounce while wearing them.
This line is very easy to blend with your own hair and can be very easily washed, heat styled, cut and colored.
Ultimately, the Royal Remy hair will last longer and is the closest match you can find to completely unprocessed hair. If you're looking for longevity and volume, the Royal Remy line is the best choice you could make.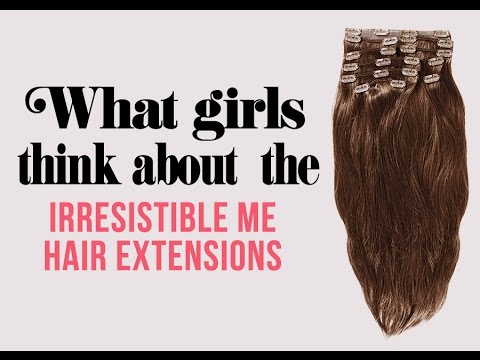 See how it works
Our clip-in hair extensions are easy to use. Anyone can install them adding instant length and volume in just minutes.
We use small but sturdy clips that allow a secure, pull-free grip. The clips and wefts are not bulky so that you can conceal them with ease.
Why Wait?
by
elizabeth.milleson
•
•
01/11/2017
I have always been frustrated with my fine hair texture. I could never achieve a desired length or a full look. I am so happy with Irresistible Me Chocolate Brown. Your product has given me greater confidence and pride in my appearance. I wear the Royal Remy set every day and have recommended it to a select group of friends who know my new secret. Clips in's are the JAM!
Chocolate
by
Sarah loves Prada
•
•
12/02/2016
Brown hair always seemed so bland but the moment I found this website, and I noticed that they call my color Chocolate Brown I fell in love with my own hair again. My Chocolate Brown Silky Touch set became my best friend.
Great hair
by
Candace
•
•
08/21/2016
This hair is thick and full. It blends perfectly with my hair. My dad did not even realize they were extensions. Very little shedding (all extensions shed some). This hair is also not as slick and fine as Bellami hair. These extensions seem more natural to me.