Details
100% human remy hair extensions
Composition:
200 g sets (10 pieces) - 1 pc of 4 clips (7.5"), 2 pcs of 3 clips (6"), 5 pcs of 2 clips (4"), 2 pcs of 1 clip (1.2")

140 g sets (8 pieces) - 1 pc of 4 clips (7.5"), 3 pcs of 3 clips (6"), 2 pcs of 2 clips (4"), 2 pcs of 1 clip (1.2")

100 g sets (7 pieces) - 1 pc of 4 clips (7.5"), 2 pcs of 3 clips (6"), 2 pcs of 2 clips (4"), 2 pcs of 1 clip (1.2")
Type / Color / Texture: Clip-Ins / #2 / Straight
Description
Royal Remy is our premium line of clip-in hair extensions. We use top of the line hair and a special treatment unique to Irresistible Me to add extra silkiness and durability and make these the best hair extensions you can find.
The thickness of the hair is consistent from the top to the bottom of the weft which will provide a lot of body and bounce while wearing them.
This line is very easy to blend with your own hair and can be very easily washed, heat styled, cut and colored.
Ultimately, the Royal Remy hair will last longer and is the closest match you can find to completely unprocessed hair. If you're looking for longevity and volume, the Royal Remy line is the best choice you could make.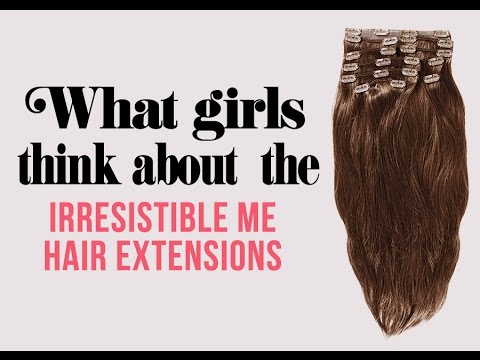 See how it works
Our clip-in hair extensions are easy to use. Anyone can install them adding instant length and volume in just minutes.
We use small but sturdy clips that allow a secure, pull-free grip. The clips and wefts are not bulky so that you can conceal them with ease.
The most expensive line is the best
So I went ahead after numerous purchases with other companies over many years. Most were alright a couple were good. So I stopped buying because I just didn't find THE one that's awesomely made easy to use AND looks like my natural hair! Until irresistible me. So much hair....looks natural and so easy. I love it!!!!!
Marinês Rosseti
by
marines.rosseti
•
•
02/10/2017
Este cabelo é maravilhoso, eu fiquei com receio de não ficar bom 200g por eu ter cabelos finos, ficou perfeito,só com as tiras de 3, 2 e 1 deixaram meus cabelos perfeitos sem precisar por a tela de 4 ficaram cheios, o que é bom que da pra usar o de 4 tiras só em ocasiões especiais, o atendimento é magnifico , a atendente foi super educada e paciente comigo me forneceu todas as informações que eu precisava , não demorou muito pra chegar meu cabelo, vocês da Irresistible Me estão de parabéns superaram minhas expectativas, muito mais que 5 estrelas, e que venham novas compras , grande abraço a todos desde de as atendentes até o pessoal da linha de produção nota mil meu muito obrigado , equipe maravilhosa, sucesso sempre.
highly recommend
My hair is brown but it has different shades and it looks different in different types of light, so I was worried I might not be able to blend the extensions wiht my hair. I contacted customer support and they've been super helpful. I sent them a couple of pictures of my hair and they recommended Medium Brown. I didn't realize how perfect tehy were until I clipped in the sample weft in my hair. It was absolutely impossible to tell which was my hair and which was the weft. I opened the rest of the package in a heartbeat and now I'm looking for occasions to go out and flaunt my gorgeous hair. If you never had great extensions, you don't know what you're missing! I recommend this brand to all my friends.